Pairing Devices
The StagesBike advertises any time it is plugged in.
Bluetooth
When scanning for Bluetooth on your chosen phone or tablet, the StagesBike will appear as Stages Bike 1234, where 1234 is the last four digits of the serial number. The StagesBike can be connected via Bluetooth as the following:
Controllable bike trainer
Power source
Cadence source
Speed/Distance source
Bluetooth power meter connection
Pair the power meter to StagesBike via Bluetooth in places where there may be numerous wireless signals, or if power drops out in connected apps. The power meter can connect to one additional Bluetooth connection while paired to the bike via Bluetooth.
To enable Bluetooth power meter connection, go to the Power Meters page of the Stages Bike Manager in the Stages Cycling app and toggle Pair with Bluetooth on or off.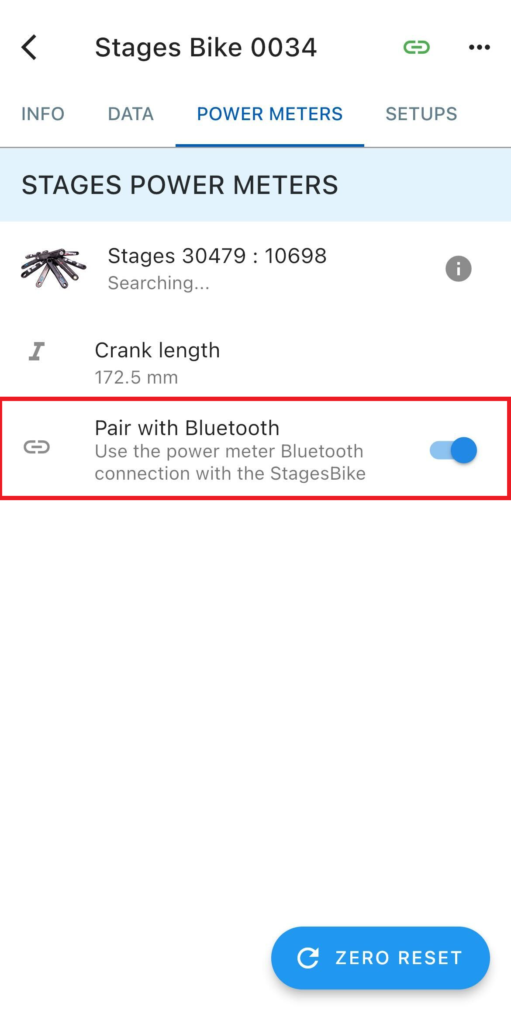 ANT+
When scanning on ANT+, the bike will appear in scanners as an FE-C device with an ANT+ ID of the last 4 digits of the serial number, excluding any leading zeros. When connected via ANT+, connected devices can:
Control mode and resistance variables.
Receive power, cadence, speed, and distance data from the bike.